NEWS
40:29 / 43:45 LMP LIVE! at St Giles, Cripplegate, with guest soloist Tasmin Little OBE – July 2020
Posted By: Sinead O'Carroll, 7th July 2020
Hats off to the London Mozart Players' for their innovative and beautifully performed second socially-distanced concert in partnership with Classic FM.  The concert was performed in July 2020 at the end of the Covid-19 lockdown, in the Church of St Giles, Cripplegate, in the City of London.  Guest soloists was Tasmin Little with Vaughan Williams' 'Lark Ascending'
Read more
"Lane plays them both with deep musical insight and virtuoso dash" Hugh Canning, Sunday Times, 28 June 2020
Posted By: Sinead O'Carroll, 2nd July 2020
Rubbra and Bliss
Piano Concertos
Piers Lane (piano), the Orchestra Now, cond Leon Botstein
Hyperion CDA68297
This series of "Romantic Piano Concertos" reaches its 81st volume with this pairing of the flamboyant Bliss concerto commissioned for the 1939 New York World Fair, and Rubbra's more reflective, bucolic piece from the mid-1950s. Lane plays them both with deep musical insight and virtuoso dash, and throws in Morning Song, a short Arnold Bax piece that was a 21st birthday present for the then Princess Elizabeth.
Hugh Canning, The Sunday Times, 28 June 2020
"This is a splendid performance by Lane and Botstein" John Quinn, musicweb-international.com, June 2020
Posted By: Sinead O'Carroll, 2nd July 2020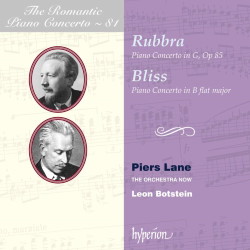 Support us financially by purchasing this from
Read more
While Our Halls are Silent: London Handel Players – Bach Organ Trio in G major
Posted By: Sinead O'Carroll, 18th June 2020
A movement from London Handel Festival's online concert for Tilford Bach Festival.  The rest of this wonderful concert can be watched on StageHub at https://www.stage-hub.com
Read more
London Handel Players this weekend on www.stage-hub.com and a personal message from Sinead O'Carroll.
Posted By: Sinead O'Carroll, 2nd June 2020
I very much hope that this following initiative is one that you will all feel is worthwhile in all our endeavours to not only support artists and live music in these very difficult times but also to bring performances to the ears of all our audiences.  Many artists have been presenting recitals and short performances on Zoom but, as you will all know, this has not brought in much needed income.  Many of us have been working hard behind the scenes to find ways to support artists and audiences moving forward, one of these initiatives is StageHub.
www.stage-hub.com is a brand new concert platform which has just been created by Martin Kendrick at Knight Classical.  Artists receive 70% of all ticket sales with the remainder going to the set-up/hosting/marketing costs.  Martin Kendrick is keen to host as many concerts as possible on this platform so if you are considering filming any of your 20/21 season in an endeavour to bring your concerts to your audiences, you may like to consider this.  Martin has done an extraordinary job in getting this up and running as quickly as he has.
London Handel Players are bringing their virtual edition of Tilford Bach Festival 2020 to our ears though StageHub.  The first concert is this Friday at 19.30, the second on Sunday at 19.30.  Each concert costs £9.95, a single price for which the household can then enjoy the concert.  The first concert is a beautiful programme of Bach performed by Adrian, Rachel Brown and Silas Wollston and the second includes the Dona nobus pacem with the Tilford Festival Orchestra and the Pegasus Choir (you can imagine the creative endeavour that this has taken).
All of you will be keenly aware that the next 12 months are likely to be challenging for musicians and audiences alike.  Many of the artists are unable to access SEISS and are relying on their savings to get them through.  Many of our audiences are shielding and nervous of attending concerts for a while.  I hope that platforms like StageHub will be at least be able to see us all through this period so that artist and audience can come out the other side with as much support as possible.
I look forward to being virtually in this audience with those who are able to log on and listen.  I would be immensely grateful if you could circulate this information to anyone that you feel could be interested.
With all best wishes
Sinead
Dear Friends,
I have some exciting concert news!
Tilford Bach Festival 2020 (Virtual Edition)
The 2020 edition of the Tilford Bach Festival was planned for next weekend on 5th-7th June featuring solo Bach, chamber concertos, secular cantatas and the B minor Mass all in the beautiful church of All Saints', Tilford, near Farnham in Surrey. We hope to bring some of that repertoire to you over the weekend of 4th-6th September – watch this space!
In the mean time, I have put together two programmes which can each be downloaded for the price of a cheap ticket – just £9.95 – on a new online platform called StageHub – 
https://www.stage-hub.com
I would like the musicians I had booked for the Festival to receive some income during this period in which their freelance earnings have disappeared so we would all be incredibly grateful if you would buy tickets and encourage your friends to do the same.
The first concert will feature Bach violin and flute sonatas and arrangements of two of his organ trios performed by the London Handel Players.
Concert 1 – Friday, 5th June 19.30
London Handel Players
Rachel Brown, flute
Adrian Butterfield, violin
Silas Wollston, harpsichord
J.S. Bach Organ Trio in G major for flute, violin and bc BWV 525
[Allegro]; Adagio; Allegro
J.S. Bach Sonata for Violin and Obbligato Harpsichord in C minor BWV 1017
Largo; Allegro; Adagio; Allegro
J.S. Bach Sonata for Flute and Obbligato Harpsichord in A major BWV 1032
Vivace; Largo e Dolce; Allegro
J.S. Bach Organ Trio in D major for flute, violin and bc BWV 529
Allegro; Largo; Allegro
The second and final concert will include movements from Bach's sonatas and partitas for solo violin. Bach's manuscript of these works is dated 1720 and it is astonishing to realise that the world has been lucky enough to have had these miraculous works for 300 years now. Four of my students from the Royal College of Music have recorded a couple of movements each.
To round off this concert and our special festival I have invited my colleagues to come together and perform for you the final movement, the Dona nobis pacem, from the B minor Mass. I very much hope I'll be able to bring you a live performance of this complete work again soon.
Concert 2 – Sunday, 7th June 19.30
J.S. Bach Partita No.2 in D minor BWV 1004 for solo violin
Allemanda; Corrente
Rebecca Baratto, violin
J.S. Bach Sonata No.3 in C major BWV 1005 for solo violin
Largo; Allegro assai
Max Wong, violin
J.S. Bach Partita No.1 in B minor BWV 1002 for solo violin
Allemanda; Double
Ines Delgado, violin
J.S. Bach Partita No.3 in E major BWV 1006 for solo violin
Loure; Gavotte en Rondeau
Maxim del Mar, violin
J.S. Bach Mass in B minor BWV 232
Dona nobis pacem
Pegasus Choir
Tilford Festival Orchestra
Conductor, Adrian Butterfield
Rachel and I 'appeared' on In Tune on Thursday and you can listen to this on iPlayer. We talked about Tilford as well as about the baroque dance research we are doing. 
https://www.bbc.co.uk/programmes/m000jgjc
Please purchase tickets and please share this news with anyone you know who might be interested! I've set up Festival accounts on Twitter and Facebook if you'd like to keep in touch with what we're doing.
Thanks so much,
Adrian xx
Read more
Review: Raphael Wallfisch plays Weinberg's Oeuvre for the Cello: An Astounding CD!
Posted By: Sinead O'Carroll, 26th May 2020
Mieczyslaw Weinberg
Cello Concerto Op. 43, Fantasy for cello and orchestra Op. 52, Concertino for cello and orchestra Op. 43bis
Raphael Wallfisch (cello), Kristiansand Symphony Orchestra conducted by Lukasz Borowicz
CPO 555 234
I think – no, I'm actually certain that Mieczyslaw Weinberg's Cello Concerto is one of his best-known works. Weinberg composed it in 1948 and dedicated it to Mstislav Rostropovich, who also premiered it in 1957. And that was not all: Rostropovich was so convinced of the high quality of the composition that he included the concerto in his repertoire. As he brought the concerto with him to both live performances and recording studios, it is adequately documented indeed.
However, the history behind this work is more complicated than we (or I, in any case) thought. In short: it started with a Concertino for cello and orchestra that remained on the shelf until Rostropovich caught sight of it and more than liked it, which resulted in Weinberg rewriting it to transform it into a real concerto.
You can read all this in the liner notes accompanying Raphael Wallfisch's new recording of the Cello Concerto. This booklet alone is reason enough to purchase the CD. Moreover, the CD also includes the original Concertino (which now has now been given the number Opus 43bis)! Its first performance dates back only three years ago and, as far as I know, this is its first recoding. What a treat to be able to listen to both 'versions' side by side!
And then there is the beautiful, melancholic Fantasy for cello and orchestra. Weinberg composed it in the winter of 1952/53 and the premiere took place on 23 November 1953 – albeit without an orchestra. It was performed by Daniil Shafran (cello) accompanied by Nina Musinyan (piano). The piece lasts only 17 minutes: long enough for a range of emotions to pass by.
The performance by Raphael Wallfisch is unparalleled. The Kristiansand Symphony Orchestra conducted by Maestro Lukasz Borowicz has also done a splendid job. A gem!
BASIA CON FUOCO, 7 May 2020
While our Halls are Silent: Emma Johnson plays 'Somewhere over the Rainbow' in her garden
Posted By: Sinead O'Carroll, 26th May 2020
To the sound of birds and amongst the serenity of nature, clarinetist Emma Johnson brings us 'Somewhere Over the Rainbow'
Read more
Pianist, Piers Lane, joins the roster of O'Carroll Artist & Project Management
Posted By: Sinead O'Carroll, 19th May 2020
We are delighted to welcome pianist, Piers Lane, to the roster of O'Carroll Artist & Project Management.  Five times soloist at the BBC Proms in London's Royal Albert Hall, Piers Lane's concerto repertoire exceeds ninety works and has led to engagements with many of the world's great orchestras including the BBC and ABC orchestras; the American, Bournemouth and Gothenburg Symphony Orchestras; the Australian Chamber Orchestra, Orchestre National de France, City of London Sinfonia, and the Royal Philharmonic, Royal Liverpool Philharmonic and Warsaw Philharmonic orchestras among many others. Leading conductors with whom he has worked include Andrey Boreyko, Sir Andrew Davis, Andrew Litton, Jerzy Maksymiuk, Marko Letonja, Vassily Sinaisky, Yan Pascal Tortelier and Antoni Wit.
Recent highlights include a performance of Busoni's mighty piano concerto at Carnegie Hall, premieres of Carl Vine's second Piano Concerto, written for him, with the Sydney Symphony and the London Philharmonic, and several sold-out solo recitals at Wigmore Hall.  Piers Lane has recently been appointed as the new Artistic Director of the Sydney International Piano Competition of Australia. 

Piers has recorded over sixty CDs on major labels, primarily with Hyperion Records. Awaiting release are another Piers Goes to Town recital disc, concertos by Ferdinand Ries, and a sonata disc with violinist Tasmin Little. Recent releases include concertos by the Australians Alfred Hill and George Boyle, a Franck, Faure and Szymanowski disc with Tasmin Little and works by Borodin, the ninth disc he has recorded with the Goldner String Quartet.
Many composers have written for him and he has premiered works by Brett Dean, Dave Heath, Colin Matthews, Richard Mills, Carl Vine, Benjamin Wallfisch and Malcolm Williamson.
'Utterly convincing and dedicated performances', Raphael Wallfisch & John York – Brahms
Posted By: Sinead O'Carroll, 5th May 2020
Johannes BRAHMS (1833-1897)

Sonatas Opp. 78 and 120 arranged for cello

Sonata no.1 in G major, from Violin Sonata, op. 78 (1878-9) [23:07]

Sonata in F minor, from Clarinet Sonata, op. 120 no. 1 (1894) [28:21]

Sonata in E flat major, from Clarinet Sonata, op. 120 no. 2 (1894) [21:01]

Raphael Wallfisch (cello); John York (piano)

rec. November 2017 (op. 120/2), April 2018, (Op. 78, 120/1), Wyastone Leys, Monmouth

Raphael Wallfisch's discography is extensive; perhaps exhaustive, in the sense that he has recorded practically every major work written for the cello and many a 'minor' one too. In this he has over the years worked with EMI, Chandos, Black Box, ASV, Naxos and Nimbus. His personal odyssey has seen him exploring both the mainstream concerto repertoire and less familiar works by Dohnányi, Respighi, Barber, Hindemith, Martinů, Kabalevsky and Khachaturian, as well as compositions by English composers from the early to the late years of the twentieth century: MacMillan, Finzi, Delius, Bax, Bliss, Britten, Moeran and Leighton.

I have 'his' Beethoven Cello Sonatas, recorded with John York in a large EMI Eminence box and they've since recorded them for Nimbus. I also had the pleasure of seeing him perform sonatas with pianist Ronan O'Hora at the Lake District Summer Music Festival in 1998.

This is Wallfisch's third excursion into Brahms' chamber works. He has already recorded the Trios and Double Concerto with

Trio Shaham and Erez Wallfisch and Daniel Raiskin's Koblenz-based orchestra. His

Volume One comprised the authentic cello sonatas, again with John York, both for Nimbus. As yet neither have been reviewed by MusicWeb International.

The notes from John York state that cellists are fortunate indeed to have their two Brahms sonatas; both masterpieces in their genre. So, one can, and certainly will, ask if they need or indeed dare to 'borrow' the G major violin sonata and the two clarinet sonatas and thereby make our two into five. Questions that arise: Are we just attempting to reproduce the original work with the necessary pitch and register changes? Can this be an opportunity to give another significance, even a second parallel existence, to a beloved work of art? The answer to the first question must be 'no', because such a treatment would simply be arrogant and pointless. To the second, John York hopes that listeners can agree that the two clarinet sonatas and the G major violin sonata lose nothing in these 'translations' and even gain a great deal of new and perhaps unexpected depth and character. That is certainly questionable, changing from clarinet and particularly the violin to cello is a major shift and must be problematic. I had heard the distinguished pianist Imogen Cooper accompanying a cellist in an arrangement

of Brahms' Violin Sonata in G Major Op.78, in Oxford about ten years ago and it was, to my ears, very unsuccessful. I was apprehensive about the recording here, of which more later.

The first "Cello" Sonata is in E flat major, from Clarinet Sonata, op. 120 no.2. It is one of two works Brahms wrote in his Indian Summer

in 1894. They are dedicated to the clarinettist Richard Mühlfeld

.

 

The two Sonatas come from a period late in Brahms' life. There he used the beauty of the sound and the tonal colour of the clarinet, most successfully in the sublime Clarinet Quintet, op. 115, perhaps one of the greatest chamber works, written earlier in 1891, and also for Mühlfeld. Where John York may be courting controversy is when he states "that these clarinet works lose nothing in these "translations" and even gain a great deal of new and perhaps unexpected depth and character". Surely the first point cannot be true but I would definitely agree with the second. I liked the performance of this E flat major Sonata very much, although I don't know it as well as some Brahms. It has his 'autumnal" hue which I find great endearing. Wallfisch's and York's experience of playing together for so long certainly pays dividends. After the mellifluous and certainly amiableAllegro Amabile the Allegro appassionato has that brimming and pent-up emotion that is so often present in Brahms. It's a warm-hearted, affectionate and unhurried work, the epitome of an Indian summer which Brahms, like "Old Jolyon" in the contemporary Forsyte Saga was enjoying; he greatly liked the Hamburg composer. This transcription clearly works.

In her

review

of a live recital, five years ago, Claire Seymour had questioned if Brahms composed two wonderful sonatas for the cello – the first in E Minor during the 1860s, and the second in F Major, twenty years later. She wondered why Wallfisch had chosen instead to perform Paul Klengel's arrangement of Brahms' Violin Sonata in G Major Op.78. In the booklet, York suggests that Brahms, not Klengel had made the arrangement. It was a work he loved as did his dear friend and confidante Clara Schumann; Brahms played it at her funeral in 1896. The reason here is to create material for a second CD and seems to me justifiable when performed so effectively. In the review judgements may have been clouded, very reasonably, by the fact that, as a violinist, she knew this sonata inside out. As a non-violinist I cannot have this insight. She found that the opening melody, which I adore, of the

 

Vivace ma non troppo

 

lacked the floating quality that the higher lying violin version evokes. The cello's double-stopped chords, when the piano takes over the melody, she concluded, had too much presence. One appreciates much beautifully expressive and suave phrasing, particularly in the quieter passages for the cello. The nuanced handling of tempo and sensitive

 

rubato

 

of the closing bars of the first movement were persuasive. I was apprehensive about hearing this in view of previous experience but in the event, I felt that, if it is to be done, it has

been done very well. They have transcribed it down to D which seems logical in view of the instrument but if I didn't know the work, I'm pretty sure that I would consider it a genuine cello piece. My go-to recording is the Decca

 

set with Josef Suk and Julius Katchen but I like to think they would enjoy this. The notes by John York go into some detail and they fully justify this transcription, giving it perhaps a more elegiac quality.

At the live concert, the

 

Adagio 

had a darkness and tortured anguish, with the piano's statement of the theme resonating with bell-like sonority. This is very apparent in the recording. The individual voices of the chordal progressions remained lucid and the cello extends the tragic air. Again, Wallfisch's double-stopped melodies are gloriously rich and sonorous, and whilst it is clearly different to a violin, his vibrato in the concluding phrases is even more telling. The instrument and transposition of key makes it a darker work. The duo's playing, especially here, is magnificent, moody and moving, which brought to mind Brahms' mentor Robert Schumann, also a very successful composer for the cello, rather more than the violin. Perhaps it's down to temperament. The

Allegro molto moderato

brings a tangible release of tension and one can appreciate the "raindrop" pattering. The timbres that Wallfisch produces from the cello really have to be heard and the ending with the beginning returning briefly is magical.

The disc concludes with the first Clarinet Sonata

in F minor which, as John York points out, is the more passionate of the two, especially in the surging first movement. The aptly named

Allegro molto moderato

first movement has some similarity to the musical argument of Brahms' Second Symphony. Heartstrings are pulled effectively in the plaintive

Andante un poco adagio

and the two instruments are in perfect unison. There's a charming melody and more spirit in the

Allegretto grazioso

before the work ends with a spirited and forceful

Vivace

which sounds perfectly natural. I'll need to go back to the Gervase de Peyer and Daniel Barenboim Classics for Pleasure recording to compare the originals. Part of the fascination in reviewing is discovery and also revisiting old favourites.

This recital seems to be a very successful collection of transcriptions, due to the dedication and skilful prowess of Raphael Wallfisch and John York. The great thing about adaptation of music, unlike say, a building, is that the original is still present and can be enjoyed as a different experience. John York is, I am sure, right in saying that these works "

gain perhaps unexpected depth and character", as well as the inevitable losses.

I commend this recording to lovers of Brahms' cello and of these two first-class musicians. I would love to hear Volume 1 and the set of Trios and Double Concerto; all wonderful works by a master composer.

David R Dunsmore, Music-Web International, April 2020

Slightly controversial transcriptions of three Brahms' sonatas. Utterly convincing and dedicated performances.
British violinist Tasmin Little launches a musical e-greeting to raise money for Help Musicians.
Posted By: Sinead O'Carroll, 5th May 2020
British violinist Tasmin Little has this week announced the launch of a new charity initiative – whereby she will record personalised e-greetings for people to send to their loved ones.
Via the following link,
people will now be able to ask Tasmin to record a video message and play a short piece for someone special.
https://tasminlittle.org.uk/Help_%20%20Musicians/index.html
"It could be for someone who is in hospital, to wish them better or someone's special birthday … or a 'Thinking of You' message …" Tasmin has said.
"I'm really aware that people are missing their loved ones during lockdown and that they are feeling distanced during important family times when they would normally be together, so I wanted to do something about it and also raise funds and awareness for a charity," she has said.
Tasmin will produce around 7 greetings per week – with all proceeds going to the Help Musicians UK non for profit charity.
Each message will involve a £35 donation.
Read more